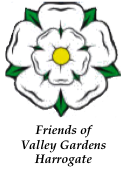 Welcome

The Friends Of Valley Gardens restore, maintain and enhance the area known as Valley Gardens and promote the Spa history and heritage of the area. Valley Gardens is open 24 hours a day throughout the year. We work in partnership with Harrogate Borough Council. We are a registered charity number 1148369. Our President is Martin Fish. Friends Of Valley Gardens are supported by the National Lottery through the Heritage Lottery Fund.

Bulletins
Heritage Lottery Award for the Japanese Garden Restoration
The Heritage Lottery Fund has awarded a grant of £89,200 towards the restoration and refurbishment of the Japanese Garden.
We are extremely appreciative of this award and all the hard work put in by members Ann Beeby and Liz Chidlow who, assisted by Kate Dawson HBC (Strategic Development Manager), prepared and lodged the application.
Early in the New Year a partnership agreement for the duration of the project will be finalised with Harrogate Borough Council who are working with us to deliver the restoration of the Japanese Garden.
There will be regular bulletins here about our progress, the planned community activities, and opportunities to volunteer.
We can all look forward to an exciting year ahead, during which the main part of the construction should be completed.

Peat Garden and Old Magnesia Well Pump Room Win Platinum Award in 2016 Yorkshire in Bloom and Also the 2016 Harrogate in Bloom Shield: FOVG are delighted to announce that we received a Platinum award (the top one) in the Open Spaces category for the Peat Garden and Old Magnesia Well Pump Room Project. We also received the 2016 Harrogate in Bloom Shield. These are great results and we send a big thank you to all of you who have helped on this project and continue to maintain the garden and the pump room. This is a testament to all your hard work. To learn more about this project and our entry, please click here.

Aerial Video of Valley Gardens Now Available: An aerial video of Valley Gardens has been created and offered to us for display for free. We extend out thanks to David Bridgen of DroneCam Solutions Ltd of Harrogate. Please click here to view the video.


In the video you will note the floral display depicting initials and the number 50. This represents the 50 years of the Harrogate International Festival and four famous authors: WS for William Shakespeare who died 400 years ago, BP for Beatrix Potter who was born 150 years ago, CB for Charlotte Bronte who was born 200 years ago, and RD for Roald Dahl who was born 100 years ago. There are approximately 11,000 plants in this display!

FOVG Undertaking Two New Projects: With the completion of the restoration of the Old Magnesia Well Pump Room and Gardens, FOVG is now initiating two new projects:

Restoration of the Japanese Garden

led by Ann Beeby and Liz Chidlow

Restoration of the Green Park Entrance

to the Gardens led by David Mason
To learn more about these projects, please click
here
. If you would like to make a donation, please click on the button below.


Old Magnesia Well Pump Room Open Every Month:
The fully restored Old Magnesia Well Pump Room is now open each month on the first and third Sundays of the month from 10.00am to 3.30pm. Please drop by for a visit.
Openings can be arranged for groups or for private showings by contacting our Chairman, Jane Blayney at
jane.blayney23@gmail.com
or by phone at 07794583888.

Tours of Valley Gardens and Presentations are Now Available:
Friends of Valley Gardens are now offering tours of Valley Gardens and the Old Magnesia Pump Room as well as the sites of our current projects. We also provide presentations to community groups about Valley Gardens. The following informative presentations are now available to be booked:

"Restorations Completed and Being Undertaken" by Jane Blayney. Please call 07794 583 888

"East Meets West Through Japanese Gardens" by Ann Beeby. Please call 07966 729 299
If you are interested in scheduling a tour, please contact our Chairman, Jane Blayney at
jane.blayney23@gmail.com
. Tours can accommodate all types of groups. We have hosted both the Brownies and the History Society as well as the group shown in the photos below. All proceeds are applied towards the restoration, maintenance, and refurbishment of Valley Gardens.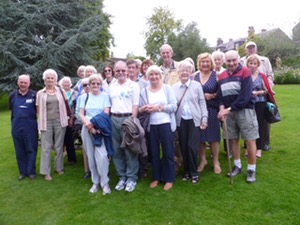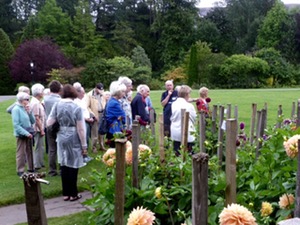 Recent tour for the Leeds Paxton Friday Forum lead by Jane Blayney

Historical Images Gallery:
Hundreds of historic images of Valley Gardens are available on this site. Please click
here
to view the galleries.

Friends Pages

For current information about Friends' activities and events, please visit our
Friends Pages
.
To learn more about
Friends of Valley Gardens
, click
here
.

To learn more about
Valley Gardens
, click
here
.

Location

The main entrance to Valley Gardens is situated at the junction of Cornwall Road, Valley Drive and Royal Parade Harrogate. Post Code HG1 2SZ. See our
maps page
for additional information.