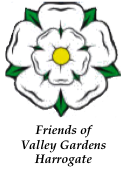 Welcome

The Friends Of Valley Gardens restore, maintain and enhance the area known as Valley Gardens and promote the Spa history and heritage of the area. Valley Gardens is open 24 hours a day throughout the year. We work in partnership with Harrogate Borough Council. We are a registered charity number 1148369. Our President is Martin Fish. Friends Of Valley Gardens are supported by the National Lottery through the
Heritage Lottery Fund
.
You Can Now Follow FOVG on:
_________________________

___________Twitter
_________________________

___________Facebook
________________

______Instagram (for Friends of Valley Gardens)
_________________________

__________Instagram (for Japanese Garden Restoration)

Bulletins
Seventh Annual Fabulous 1940s Open Day Hosts 39,000 Attendees: FOVG would like to thank the volunteers and attendees at the 1940s Day who helped to make this year's event the most successful ever. The Harrogate Advertiser reports that more than 39,000 people enjoyed the beautiful weather and wonderful entertainment!

Valley Gardens Head Gardner, Simon Collier Walked Coast to Coast to Raise Funds: HBC's head gardener in Valley Gardens, Simon Collier, accompanied by his dog, Russell, Simon's brother, Michael, and good friend, Steve, have walked 84 miles spanning the length of Hadrian's Wall from Bowness to Wallsend. The walk, which was completed from 19th - 24th July, raised money to be divided equally between FOVG and Starbeck in Bloom.

Sponsors may deliver their sponsorship money (not already paid) to:
Simon Collier
in Valley Gardens
Monday to Friday 8.00am-4.00pm
or to Jane Blayney (Chairman, Friends Of Valley Gardens)
c/o 23 York Road Harrogate HG1 2QL

Cheques payable to Simon Collier

Please click here to see photos of the walk.

Rooting for Harrogate: This year, Harrogate is competing in the Champion of Champions category in the RHS 2017 Britain in Bloom competition. Judging was held on 1st August, Yorkshire Day. Let's all root for Harrogate!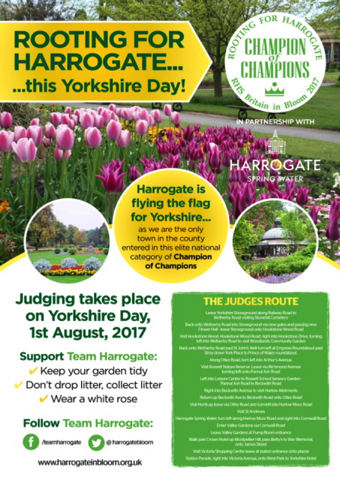 FOVG Newsletter: The latest edition of our newsletter, the Albatross, is now available. You can download a copy by clicking on the following link: Spring/Summer 2017

Friends Pages
For current information about Friends' activities and events, please visit our Friends Pages.
To learn more about Friends of Valley Gardens, click here.
To learn more about Valley Gardens, click here.

Location
The main entrance to Valley Gardens is situated at the junction of Cornwall Road, Valley Drive and Royal Parade Harrogate. Post Code HG1 2SZ. See our maps page for additional information.